Looking to jumpstart your fat loss efforts?
Want a simple and easy plan to help shed
5-10 pounds in a month?
Need an excuse to purge your closet and make room for new clothes to show off that slimmed down body?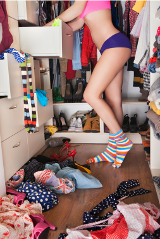 This jump start unlocks a ton of resources to support you through your transition to fat loss and balancing your hormones.
It includes one on one coaching, a comprehensive workout plan, meal planning and recipes that are all designed to take your weight loss to the next level!
This program gives you the accountability and support you need to reach your goals and look and feel great.
Wardrobe confidence is essential for success and this program will help you gain the confidence you always wanted.

What you get:
Personalized

meal plan

1 one-on-one coaching calls with a nutritionist and personal trainer

4 weeks of exercise programs (including detailed descriptions that can be done at home or at the gym)

Recipes

Fat loss friendly food list

One hour rescue with Wardrobe Stylist Dorian Cattani from The Closet Rescue

Wardrobe suggestions for your new updated look



This program when purchased separately is validated at over $300 but when you buy your jumpstart and closet rescue today you will receive over a 50% discount.
Get this program for only $100!
Click the Buy Now button and you will be enrolled in the Jump Start Program.
**After you purchase your Jump Start you will be contacted by Dorian to schedule your closet rescue.
Payment for rescue due at time of service**
The Closet Rescue only available in NYC, Hoboken, Jersey City, Union City or Weehawken.