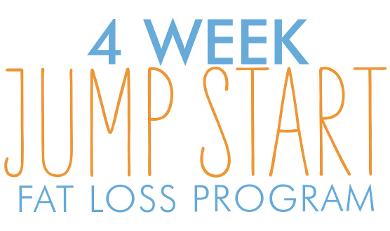 This four week jump start unlocks a ton of resources to support you through your transition to fat loss and balancing your hormones.
From one on one coaching to a comprehensive workout plan to meal planning and recipes that all designed to take your weight loss to the next level! This program gives you the accountability and support you need to reach your goals and look and feel great.
What you get:
4 weeks of detailed nutrition plans including weekly menus

4 weeks of exercise programs (including detailed descriptions that can be done at home or at the gym)

Weight and Body Fat Tracker

Food diary

Recipes

Fat loss friendly food list

Emails with Fitness and Nutrition tips to keep you motivated
This program is originally $77 but today you can begin your transformation for just $27.
Click the buy option on PayPal and you will be enrolled in the 4 Week Jump Start Program.
What others had to say about the program...

I was definitely surprised – 10.5 dropped in 4 weeks. My energy went through the roof. And I never felt hungry. In fact, I was often overwhelmed by the amount I had to eat in a day. I just feel lighter and healthier and can't imagine going back to my old lifestyle. Thrilled that I was able to see such big changes!

-Courtney
Tomorrow marks 4 weeks- I went down a pants size!!!! Yay! Your program is amazing! Thank you for motivating me and teaching me how to eat clean!
-Sydelle
I'm down 10 lbs in 3 weeks and that was with out being able to work out last week due to being sick...but back at the workouts full force tomorrow!! Feeling great...thanks for the encouragement!
-Sally